The Woodspring Wings Model Aircraft Show has been a regular fixture on the flying calendar since shortly after the club began in 1989. It has since grown to be the biggest model aircraft show in the South West, and attracts around 5000 visitors each year. Held over two days on the second weekend in Jul (9th and 10 for 2022), the show features all-day model flying displays by some of the country's top pilots, many traders and of course food and drink to suit all tastes.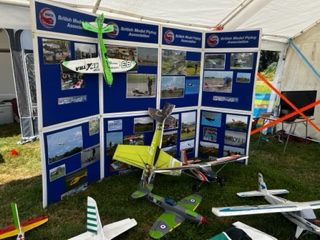 In recent years we have also enjoyed fly pasts by the BBMF Lancaster, the Red Arrows and the BBMF Spitfire, something we hope to continue every year.
Located near Yatton in the Somerset Levels, Woodspring Wings is ideally placed to run a show of this size and popularity. The club owns a total of 21 acres of land including the flying field itself and adjacent fields meaning ample space for the event and plenty of parking on site.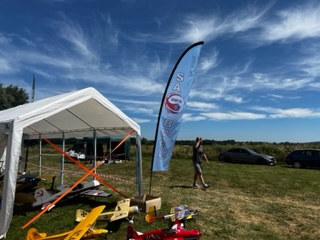 Some lads from the S. Area visited the show and set up a stands, so I include a few photographs to record the attendance. On the right hand side one of the recently purchased S Area banners can be seen.
The show was well attended and some information gathered that will be useful when running the Popham Model show in August.